Song of the Day: The Decemberists - Yankee Bayonet (I Will Be Home Then)

So the whole post today was inspired by this piece of work from Stereogum. This debate has gone on for a while amongst internet meatheads around the globe. From message board to message board, fans of each have been bashing their adorned starlet from the most fickle details as possible. I find it kind of funny and love reading about it more and more. It's cool to have one redhead vying for the coveted "Indie Rock Queen" title against a fellow auburn-locks compatriot. But for my honest opinion, I've seen Ms. Postal Service/child actor and wasn't really that moved by her performance as much as people her her out to be. Granted, this was before she blew up.

It's just cool to have some Can-Con in the indie rock pageant with the likes of Sarah Hamer, Sarah and Tegan, Amy Millan, and of course Neko Case. This just shows that Canadian rockers are dead sexy! So from the poll three of our own cracked the top ten: Feist (2), Neko Case (4), Emily Haines (6). So in light of the recent indie rock goddess title, I've come up with my own list scarlets of indie rock...


(6) Emily Haines of Metric
I found out about about Metric watching The New Music on MuchMusic. The music was catchy and the live performance looked super cool. My first Metric show was at the Casbah in Hamilton where only 20 people showed up max, but it sure didn't feel like 20 once everyone was dancing. I could have sworn that this was the first show that I ever danced to. Emily has a way to stare a you to where your knees become weak. Uncanny really. The other time I saw her, I dragged along a hometown buddy of mine. Emily performed one of the most erotic encores that I've ever seen in my life. Johny can attest to what he witnessed on stage. Ridiculous!



(5) Lisa Loeb I have a huge thing for glasses I guess and no one can be more identifiable that Lisa and her tortoiseshell glasses. Her songs rocked and her voice sounded so peaceful. 'Stay' will always be a classic. I think the song is so indoctrined with music from the early 90s. It was a breath of fresh air from the angst ridden grunge music that was dominating ariwaves at that time. Her stock recently dropped in my books with her foree into television with a couple of reality TV shows. It just seems all to weird to me. Where is the music Lisa? Is she trying to reinvent herself?



(4) Star Wick of Ozma
Star is really cool and chill keyboardist of this rock band from the State of California. I had the fortunate oppurtunity to her after an acoustic set where Ozma dazzled fans with some classics. Anyways, I was really exicted to see them as I never really thought they'd ever make it this far East touring. I remember buying her a cookie for Valentine's Day of course. We had a great conversation about why she wasn't able to make that tour where Ozma played Detroit Rock City with Rilo Kiley. Turns out she's a marine biologist and had finals. Man, biology & music... Doesn't get any better than that. I was a little bummed out that I wasn't able to tlak to her after their show in NYC as she was ushered out of the venue as soon as their set was over. Check out the tune 'Battlescars' to hear a really captivating intro/outro.



(3) Petra & Rachel Haden of the now defunct that dog.
I'm pretty sure Petra and Rachel were my first musical crushes (if you get the reference, you're awesome). I was about 15 or so when I was them at this dive of a venue in a neighbouring city. I had won tickets off the radio and begged a friend's father to drive us to the show. Here's also my first encounter with a rock star as well. Seeing that I was supeer stoked about the show, my friend and I got to the venue super early. So early that we
caught their sound check with our ears pressed against the teal tiling right at the corner of building. As their band walked out to their van, I distinctly looked at Rachel as she blew smoke from her cigarette at my face. I don't think it was inentional as I don't think she expected fans in line this early on the corner. At that moment, I thought to myself as to how rock 'n roll was that! I still haven't washed my lungs of the second hand smoke from that day. Just before their encore, my friend and I had to leave before I could get to meet the Petra. Since the exit was right by the stage, Petra and I bumped into each other... I was too star-struck to say anything but to stare. Drool ensues and Petra cracked a big smile before she headed onstage. I still won't be able to live that down. As for a brief update, I did however get a chance to meet Rachel several years later when she was touring as a back up vocalist for Jimmy Eat World. My buddies and I stayed back after the set was over to see if we could meet band. Of course security ushered the stragglers out. Lucky for us, we were able to talk to Zach Lind (Jimmy Eat World drummer) who after me professing my adoration for Rachel ran back stage and got her to come out and meet us! I told her the story of the smoke and professed my love for her and Petra. It was a groupie moment I'm sure of it. Probably the best 15 minutes ever!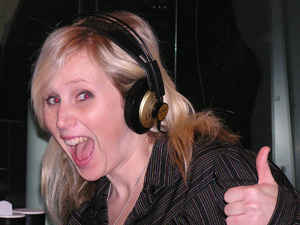 (2) Kori Gardner of Mates of State
I think I've expressed enough admiration for the coolest rock mom ever. So to keep this short, she sings at the top of her lungs, desecrate organs and keyboards. Annnd for some reason she makes me smile when she sings with such ease it's scary. Really, what more can you ask? This ex-teacher now schools one city at a time on how to rawk with such an efficiency. As you can see from the picture, she already knows that she rocks. She's kickin' ass and taking names in a city near you, so check it out!



(1) Lorien Jones and Andrea Wasse of the Weekend
"Boy you sure look pretty when the lights are down I'm kind of drunk I told you so"... It was a tough decision, but the ladies of the Weekend were my best kept secret from pop rock affisianatos everywhere. I even sent out bootlegged tapes to my friends in the US and BC to spread the word of these ladies. And when I was at the that dog. show featuring Rachel and Petra (number 3 on the list), these two chicks directly behind wouldn't shut
the f*ck up! Turns out, it was these two because the blond one elbowed me for no apparent reason. This band basically combines (almost) everything I like about music: synthesizers, a Gibson baby SG, glasses, and an awesome onstage presence with witty jibber jabber between these two kats. Oh and the kicker was that they were a local band that I basically saw every other week. The magic ended for me when Jones left to pursue further bookworming duties. Even though their music was a potpurri of pop rock sensibilities, of I've heard stories from Cons Doug of some of their partying ways (i.e. something about a chandelier, a moose, and hot tub???). That's rock man! I think of these pop princesses as tough as nails rockers with the rockstar swagger and inate ability to down Jaeger in a heartbeat. So when I come around to read and article like this, I can't help but laugh [point and giggle – frickin' wuss!]. Long story short, these ladies need to reunite BIGTIME. Seriously, bring the debauchery back! Screw Montreal and screw California.
So here's what I like in rockers...

they can wail on a synthesizer/organ/keyboard
advocate rimmed glasses
and they have to be pale apparently - hah
Oh,and here are some other notables:
Emm Gryner
,
Chan Marshall
of Cat Power,
Lauren Chipman
and
Sara Radle
of The Rentals, and
Katrina Kerns
of Sufjan Stevens' backing band the Illinoisemakers
xend transmissionx